Jonathan Bryant wrote:
Christopher Kreuzer wrote:
Does the fact that the position can be looked up on Shredder or in other forms of tablebases, make adjournments pointless here? Which positions are complex enough that humans playing them can still go wrong? Is adjudication better than adjournment, and is forcing a rapidplay finish acceptable, or does it depend on the position?
Now the game that prompted this has finished, I can give a few more details!
In what follows, I've requoted the questions Jonathan was replying to.
Are adjournments pointless?
Jonathan Bryant wrote:
1. No (see Richard's post above)
I agree, as the tablebase didn't help me that much. I still had to rely on calculating things over the board and working out the general principles.
Which positions can humans go wrong in?
Jonathan Bryant wrote:
2. Any. I speak as somebody who just won W king on g3, W pawn on g4 against B king on g5 against somebody rated in the 160s.
The position I had was one of those rook endgames that are still drawn even when you are two pawns down. White king on h2, Black pawns on h3 and g4, Black king on g5, Black rook on g6, and White rook on h8, with White to move. I'm ashamed to admit that I didn't know that this position was drawn, but I still managed to seal the right move (Kg3). Finding out why it is drawn was quite interesting (the critical line is where the Black king ends up on g1). Anyway, the position after the move I sealed was this: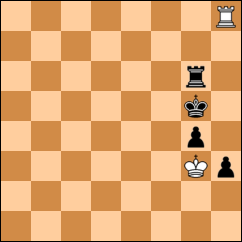 Black to move. Position is drawn.
Are adjudications better than adjournments?
Jonathan Bryant wrote:
3. No.
I agree. You learn more from adjournments. Though I can't (yet) say that I know all the positions where you can be two pawns down in a rook endgame and still drawing, I can say that it is worth knowing them (from either side)! Rook endgames are, after all, the most commonly encountered endgames.