Hi Jon.
The big triple up on the f-file, scared the hell out of me and I was
only playing over the game.
Smashing wrap up. I bet £50 that Anand could not find better
or improve upon White's last 5 moves. (tell her that then send me £50.)
You are right at that level 'Chess Luck' always favours the attacker
because the blunder ratio is so high. One mistake defending is usually curtains.
Now is a good time to start trading ideas.
Advise if you see a good move. STOP!
Never accept the first bid. Haggle with the position. Look for a better move.
Here White to play.
I'm liking 13.Rxf7
Point out it threatens mate in one move. (now that is good haggling.)
And it takes full advantage of the unprotected Knight on h5.
13...RxR 14.BxR+ picks off the h5-Knight. Piece up.
It's not a moot point because Black had a clammy defensive move.
Here (Black to play move 14)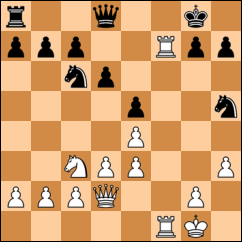 14...Nf6 and White has to play 15.Rfxf6 giving back the exchange.
White is still on top and in cruise mode and to be honest I would
take either position. But given a choice I'd take the piece up.
Let her decide which one she likes.
Next lesson cover Discovered Checks. "The Dive Bomber of the Chessboard." (Ruben Fine).
and ½ a dozen easy combo's based on picking up loose pieces.
Unprotected pieces/pawns are at the root of 90% of all non-mating combinations.
Thanks.
Hi Chris.
Glad you enjoyed the game as well.
No name of the loser was given - perhaps best that way.
(though if their surname name was on a grading list I'd use it.)
Though the first Knight move 10...Ng4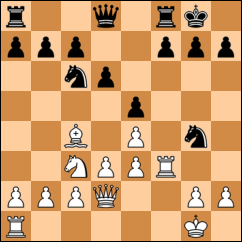 Carried the seed of Qg5 and with the Queen on g5 Nd4 is playable
because the e-pawn is pinned to the undefended Queen.
The player may have seen this when chopping the f3 Knight.
You have got to see their ideas and plans, sometimes they are beautiful.
PS:
Jon just emailed me the losers name. it was Christopher Kreuzer (age 9½)
(try denying that in 15 years time)